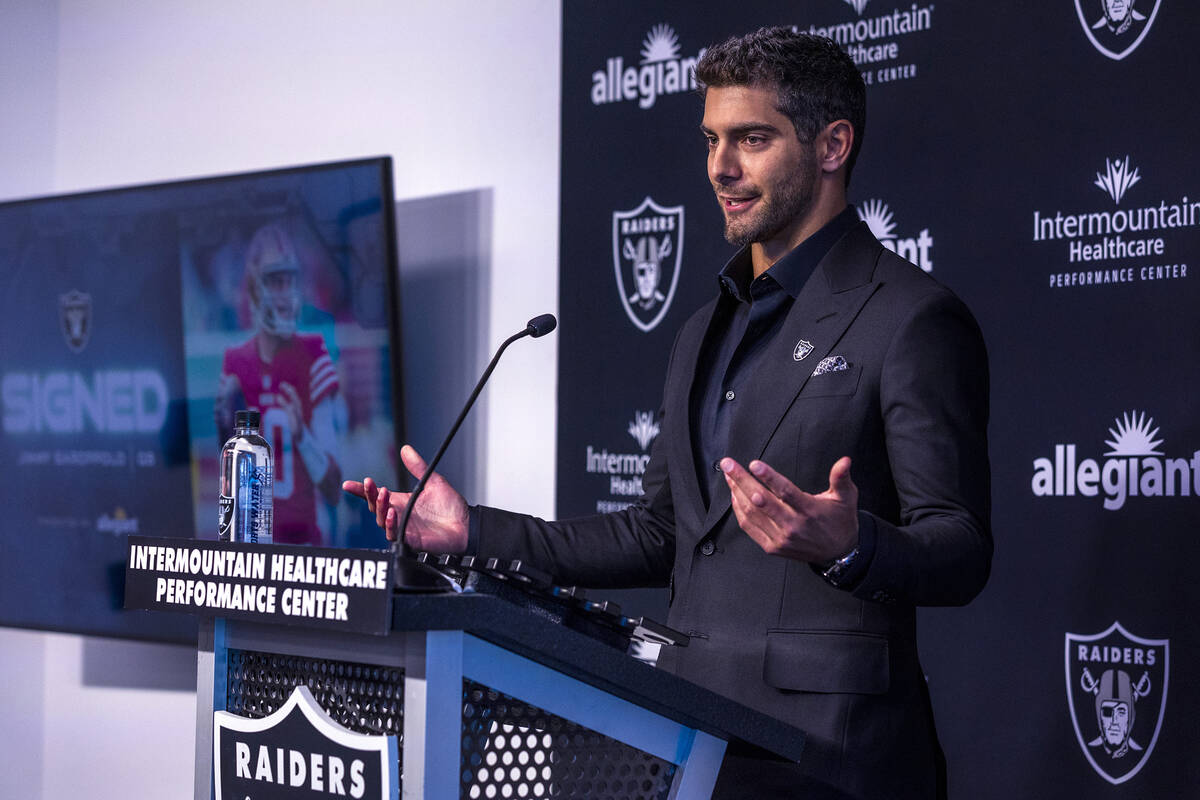 As the Raiders moved into the on-field phase of their offseason program, one prominent player was missing. And it might be awhile before their new starting quarterback gets on the field.
Jimmy Garoppolo, signed in March to replace Derek Carr, is being held out of on-field work because of a foot injury he suffered last season with the 49ers.
Garoppolo suffered the injury in Week 13. The injury did not require surgery at the time, but Garoppolo reportedly underwent a minor procedure in March. His complete recovery process could keep him sidelined until training camp, coach Josh McDaniels said Thursday.
The Raiders knew this probably would be the case upon signing Garoppolo to a three-year deal during free agency, so McDaniels wasn't concerned that his new quarterback could miss the on-field portions of organized team activities.
"He's going through his process just like we knew he would," McDaniels said. "Nothing has happened that would surprise us based on the information we had."
Garoppolo was one of a handful of players who weren't on the field Thursday for health-related reasons. Among them was rookie defensive end Tyree Wilson, the Raiders' first-round pick who is recovering from a foot injury.
McDaniels said the team will take a cautious approach with any player who is still recovering from an injury.
"Some of them may be ready before the spring is over, some of them may not.," he said. "We're always going to err at this time of the year on being smart."
McDaniels said those players will remain active in all other activities.
"They're in all the meetings, all the football things that they can do that aren't jeopardizing anybody's ability to be ready to go for the season," he said.
Star running back Josh Jacobs wasn't on the field, either, but his absence was expected. Jacobs, who led the NFL in rushing last season, hasn't signed his franchise tag tender.
McDaniels said he didn't know if Jacobs would show up at some point during OTAs.
"Obviously, that's up to J.J.," McDaniels said. "There's nothing really to report on that front. I stand by what I've said all along, love the player and the person, and I'll be excited when I see him."
The sides have been working toward a new long-term contract and face a July 15 deadline before those talks have to be tabled until after the season. If that's the case, Jacobs must play the season on the franchise tag terms of $10.091 million.
Contact Vincent Bonsignore at [email protected]. Follow @VinnyBonsignore on Twitter.