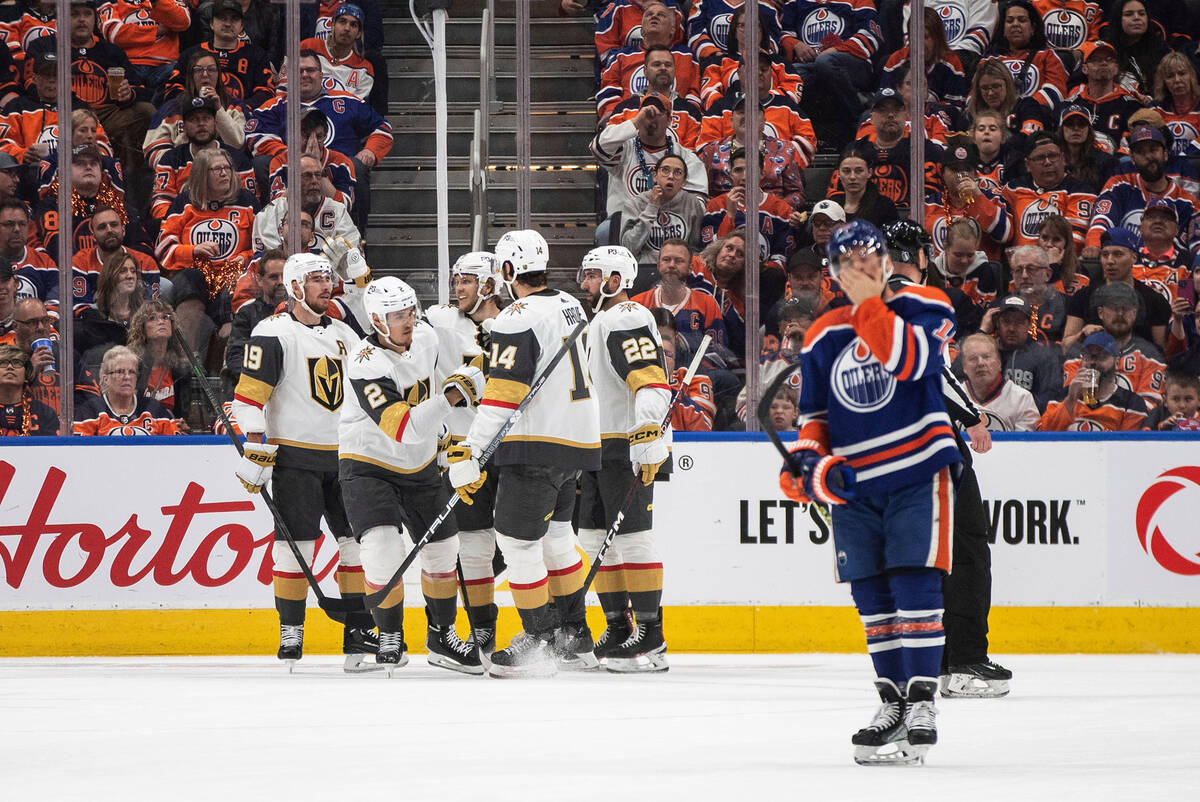 EDMONTON, Alberta — This is why they were the NHL's second-best road team. For performances like this. For a dominant showing in the season's biggest game yet.
For quickly putting aside a forgettable effort and refocusing in a way that was beyond impressive.
Nothing bothered the Golden Knights much at all Monday night, a bounce-back victory in the most terrific of ways.
They whipped the Edmonton Oilers 5-1 before 18,347 at Rogers Place to take a 2-1 lead in the best-of-seven series.
There are team wins, and then there are ones like this. It set the standard for such. This wasn't the side that lost Game 2 5-1. This wasn't close to that one.
The Knights are now 10-3 in Game 3s of the playoffs. Not many of the 10 have looked better than this one.
"Huge for us," said Knights forward Jack Eichel, who was more than on point with a goal and two assists. "Thought we did a good job sticking with our game, and then we responded quickly once they got the first goal. We've been a good road team this year — now we need to do it again (Wednesday) in Game 4."
Frustrating the Oilers
It was 5-1 after 40 minutes because the Knights were really good in the first period and near-perfect in the second. Forecheck was on point. Puck possession. Excellent discipline. Just frustrated the heck out of Edmonton.
"At the end of the day, they have two wins and we have one," Oilers coach Jay Woodcroft said. "We weren't sharp. We didn't skate well. Our compete level wasn't good enough. We weren't good in any area."
The truth: The Knights' had as much to do with that as anything else.
They're just better than the Oilers at five-on-five. Funny what happens when you don't give Edmonton several power plays. The Knights controlled the puck in a way Monday that coach Bruce Cassidy preached about not doing after Game 2.
It was also the return, in a way, of Jonathan Marchessault.
The forward hadn't scored in these playoffs and had gone 14 postseason games without a goal. But there he was, getting his team's first two.
The Knights did most everything right, including controlling Edmonton's dynamic duo of Connor McDavid and Leon Draisaitl, who combined for six shots while both playing to a minus-2.
Veteran teams handle road environments better. They're not fazed as much by rowdy crowds. They trust in whoever happens to be on the ice. They roll four lines and, well, roll with it.
They don't collapse when adversity hits. And it did.
You knew something was wrong when Knights goalie Laurent Brossoit slid awkwardly across his crease to make a save. You knew something was really wrong when he lay face first on the ice, unable to move.
Brossoit injured himself with 8:16 left in the first period and was helped off the ice by teammates.
And then backup Adin Hill got his chance.
And then things didn't change.
Hill, who missed a few months of action with a lower-body injury, hadn't played since March 7 when relieving Brossoit in the third period of Game 2. Hill would stop all 25 shots aimed his way Monday. Big part of the team. Big.
More than ready
It was Marchessault who talked earlier Monday about bouncing back from that Game 2 whipping.
"Look at all the playoff series across the league," he said. "Good teams have bad nights. You just have to battle in the next one. Not going to change one bit. We're a veteran group that knows how to play. We have our heads on our shoulders. We'll be ready."
They were more than that. They came here and silenced one of the louder home crowds in the NHL.
They did so for several reasons, but none more than this: It was the team. Every last one of them.
Ed Graney is a Sigma Delta Chi Award winner for sports column writing and can be reached at [email protected]. He can be heard on "The Press Box," ESPN Radio 100.9 FM and 1100 AM, from 7 to 10 a.m. Monday through Friday. Follow @edgraney on Twitter.