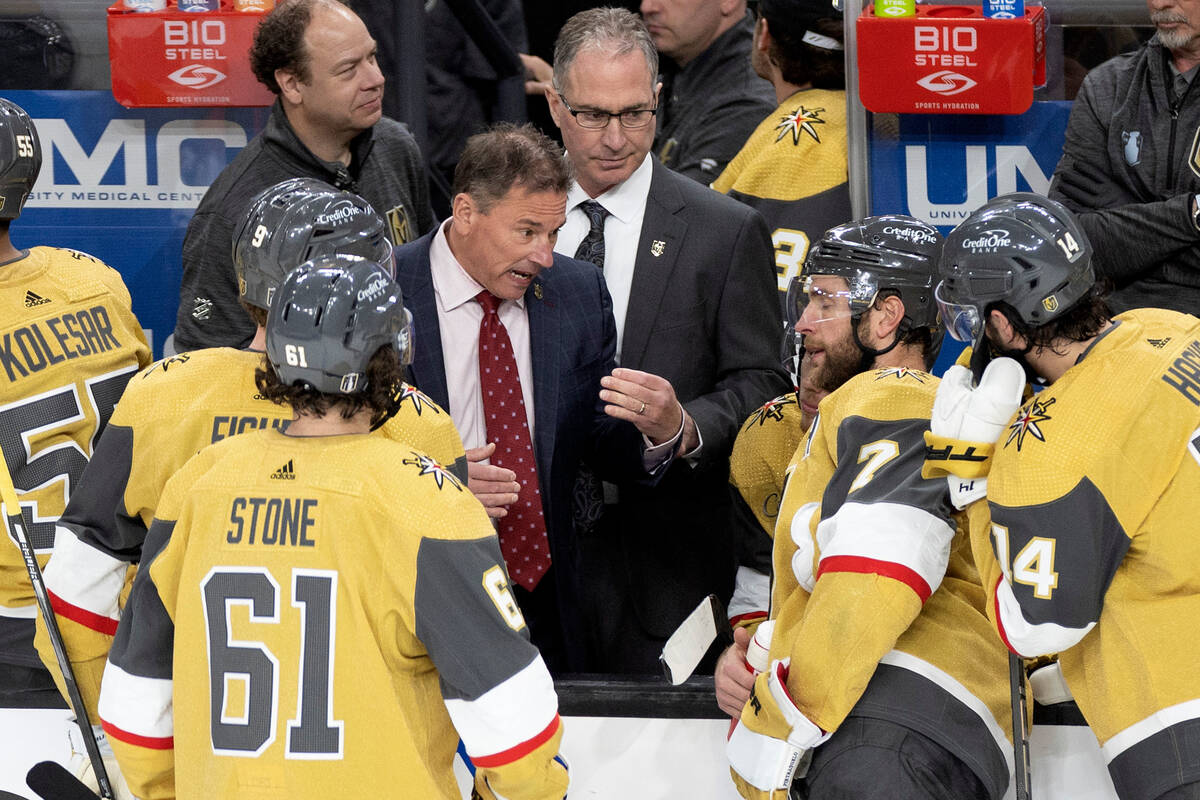 It was Wednesday night when the Edmonton Oilers started a first period line of Leon Draisaitl, Mattias Janmark and Klim Kostin. Sort of a wish-wash of their usual offering.
It was if they were throwing a curve ball at Golden Knights coach Bruce Cassidy. Seeing how he might respond.
And he scoffed at it. He started his fourth line.
The Oilers then began the second period with a line that included two of the world's best players in Draisaitl and Connor McDavid.
And the Golden Knights again started their fourth line.
Never afraid
There is a message in there: Cassidy won't budge from what he believes is right for the Knights. It has been a sort of mantra all season — teams must adjust to Cassidy's side and not his to theirs.
He believes too much in his team's depth. He's not afraid to roll four lines, even in the most stressful of situations that is a playoff series. There is no second-guessing. No hesitation.
The last thing Cassidy's team does is play scared, no matter the level of skill that exists on the opposite bench. And in this case, it's prodigious.
The teams meet again Saturday at T-Mobile Arena in Game 2 of this best-of-seven, the Knights having opened with 6-4 victory.
Here's the idea: That if a fourth line of Nic Roy, William Carrier and Keegan Kolesar can play the McDavid-Draisaitl duo even, if they can check well enough and own enough puck possession time and not give up transition chances, the next three lines over the boards for the Knights should own even a slight edge. Maybe even a greater one.
"They feel they have an advantage putting Draisaitl and McDavid together, and they're right," Cassidy said of the Oilers. "They're two of the best players. They're dynamic, so I get it. But we've got to try to counter it the best way possible.
"Understand who you're playing against on that particular shift. If they're together, you have to be above them. That's why we'll share it, because it is a demanding job."
The same approach is needed with the Knights' defensive corps.
It's unlikely (impossible?) for one pair to handle McDavid and Draisaitl all evening— it's a big ask, as Cassidy would say — so you share the responsibility as those up front. And if you have one the NHL's best blue lines, which the Knights own, it becomes a more manageable task.
Analytics didn't win the Knights a Pacific Division title and No. 1 seed throughout these Western Conference playoffs. They won't win them this series or perhaps the next one. Their numbers this season never screamed of a Stanley Cup contender.
But the depth scoring did. That so many different names chipped in when others were out with injury. That so many bodies made positive contributions.
And it's imperative they do so now. The push from Edmonton will be quick and obvious Saturday, given the last thing an Oilers team desires — no matter how talented — is heading home down 0-2 in the series.
If you're the Knights, countering such emotion means again countering all that talent with the sort of balance that has delivered you to this point.
Must be smart
"McDavid is the best player in the world, so if you match up any one line against him all night, it's going to be tough for us," captain Mark Stone said. "It takes little spurts and a couple shifts against their top guys and doing the job the way we've had success all year.
"We've beaten good teams throughout the season. It's not as if Bruce has come up to me or (William Karlsson) or Jack (Eichel) and said, 'You guys are glued to this one guy.' It has been a team effort."
Added fourth-liner Carrier: "You have to be smart. If we can keep them in their end and hold onto pucks so that they're 200 feet away, they can't score."
I mean, you wouldn't think so …
Ed Graney is a Sigma Delta Chi Award winner for sports column writing and be reached at [email protected]. He can be heard on "The Press Box," ESPN Radio 100.9 FM and 1100 AM, from 7 a.m. to 10 a.m. Monday through Friday. Follow @edgraney on Twitter