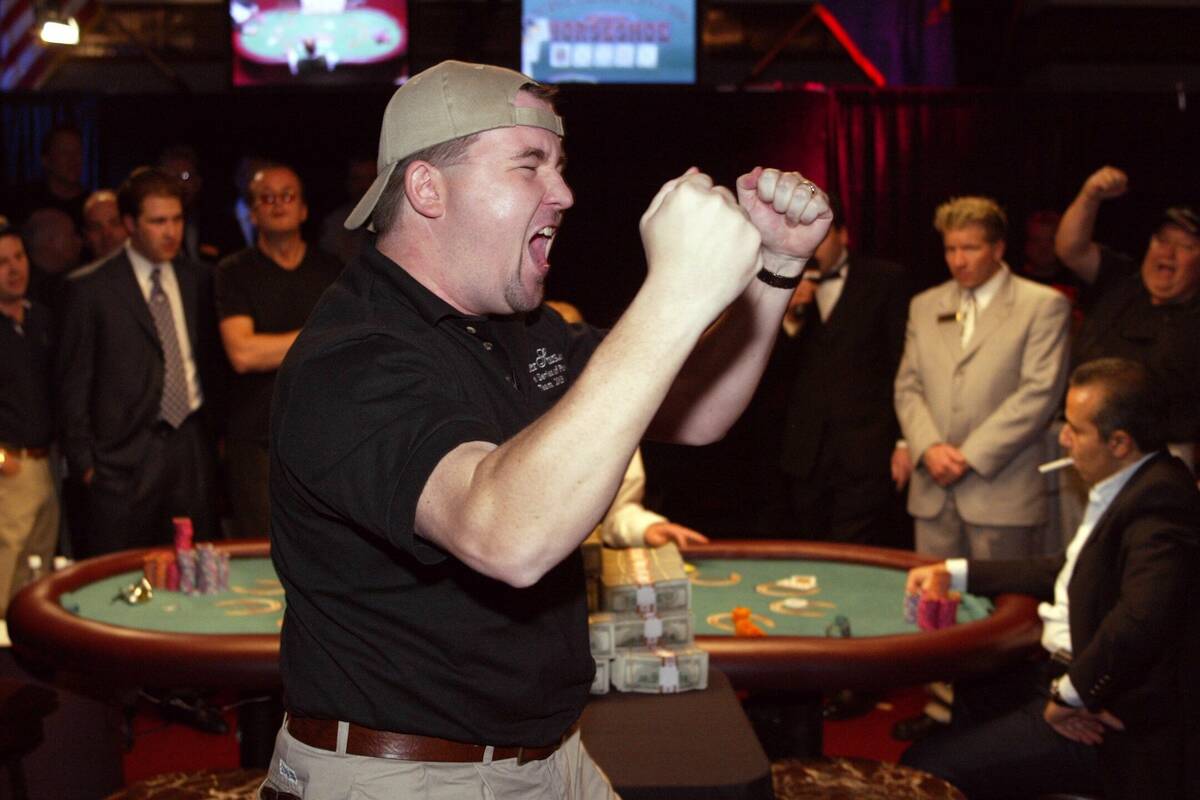 Chris Moneymaker was once at a party when someone approached him from behind and put their hands on his shoulders.
"Wow, I'm a huge fan," the stranger said.
Never one to ignore a supporter, Moneymaker turned around. And the winner of the 2003 World Series of Poker Main Event was stunned to see who was standing in front of him.
Actor Leonardo DiCaprio.
"I'd watched all his movies and had been a fan for a long time, and he's coming up and telling me that he's a fan," Moneymaker said. "That was obviously a pretty surreal moment for me. Still to this day I'm like, 'What the hell happened there?'"
It's been 20 years since Moneymaker's unforgettable victory helped spark a poker boom, the effects of which are still being felt to this day.
Over time, some Main Event winners who followed Moneymaker have faded from the spotlight, and some walked away from the game entirely.
But as the 54th annual WSOP opens Tuesday at Horseshoe Las Vegas and Paris Las Vegas on the Strip, Moneymaker remains as relevant as ever, promoting the game across the world.
He has embraced his role as an ambassador, and continues to use his clout to push for legislation to legalize online poker that could ignite another surge in poker's popularity like the one a generation ago.
"Even 20 years later, he represents the Everyman in so many ways at the poker table," professional poker player Daniel Negreanu said. "He's still that fun-loving guy that people can relate to. The idea of that Moneymaker dream still lives through him and what he does in poker today.
"It brought the Everyman closer to the World Series, and 20 years later, people still make it a bucket list item to play in the World Series of Poker Main Event."
'It was so crazy'
Moneymaker remembers almost everything from his victory, from staying up past 4 a.m. each day until his table draw was posted to feeling outclassed at the table.
An accountant from Tennessee, Moneymaker qualified for the $10,000 buy-in No-limit Hold'em World Championship through an $86 online satellite.
The amateur outlasted a field of 839 entrants to claim the $2.5 million first prize, knocking out several top professionals along the way, including 10-time WSOP winner Phil Ivey. Moneymaker's run also included a famous hand against runner-up Sam Farha during heads-up play that ESPN announcer Norman Chad called "the bluff of the century."
"It was so crazy," Moneymaker said. "My goal was to just get through the day every single day and try to survive."
The victory came at a time when online poker was emerging and the World Poker Tour debuted on the Travel Channel.
Combined with Moneymaker's name, unique backstory and ESPN's coverage, which allowed viewers to see players' hole cards, poker broke into the mainstream.
"It was really just an intersection of many things happening at the same time," Chad said in a 2017 interview with the Review-Journal.
After Moneymaker's victory, the 2004 Main Event field more than tripled to 2,576, then more than doubled again to 5,619 in 2005 when the WSOP moved from Binion's Horseshoe to the Rio Convention Center. Participation peaked in 2006 with 8,773 entrants, which remains the all-time record.
Poker rooms flourished around the country, and television turned top pros like Negreanu, Phil Hellmuth and Doyle Brunson into celebrities.
WSOP executive director Ty Stewart was so captivated by Moneymaker's win that he left his job in 2005 as director of integrated marketing and promotions with the NFL to start a career in poker.
"Life changed drastically after Chris won, for sure," said WSOP vice president Jack Effel, who was working at a casino in Tunica, Mississippi, at the time.
Poker's popularity took a hit following the Department of Justice's crackdown on online poker in 2011, but Moneymaker remained one of the game's biggest promoters despite a modest career at the tables.
Moneymaker served as an ambassador for PokerStars.com for 17 years before parting ways in 2020 with the website on which he famously qualified for the 2003 Main Event. He has represented online poker site Americas Cardroom since 2021.
Though Moneymaker never duplicated his Main Event success, he has amassed more than $4 million in career live tournament earnings, according to the Hendon Mob Poker Database.
Moneymaker was inducted into the Poker Hall of Fame in 2019 for his impact on the game.
"I just wanted to support my family and grow the game," Moneymaker said, before joking about his reputation. "For years, people thought I was like the worst player ever. Over the years, people have realized I'm not the worst. I'm one of the worst, but not the worst. I'm moving up the ladder slowly."
Another boom?
Moneymaker, 47, doesn't play poker as often as he used to and instead is focused on his family. He remarried in 2005 and has three children, the youngest of whom is 11.
"When he turns 18, I'll probably be out there (at the WSOP) for the whole summer," Moneymaker said.
But Moneymaker takes a particular interest in the future of poker.
This year, he launched the MoneyMaker Tour, a poker tournament series with buy-ins ranging from low- to mid-stakes. The first stop at Palm Beach Kennel Club in Florida ended Wednesday and awarded more than $1.4 million in prize money over two weeks of action.
In September, he opened the Moneymaker Social Club in Paducah, Kentucky, which offered live poker along with pool, darts and other entertainment. However, the club was forced to shut down its poker operations in February under the threat of prosecution from the county attorney's office.
Moneymaker also works to support efforts to increase female participation in poker, along with regulated online poker in the U.S. Nevada is one of six states, along with Delaware, Michigan, New Jersey, Pennsylvania and West Virginia, to have legalized online poker.
"My goal is by the time I get to Doyle's age (89), hopefully we're all able to play poker wherever we want, whenever we want," Moneymaker said.
While it's doubtful there will be another boom like the one that followed Moneymaker's victory, poker enjoyed a resurgence during the coronavirus pandemic as many were introduced to or rediscovered the game through YouTube or Twitch.
After falling 110 players short of the record for Main Event field size in 2022, WSOP officials are confident they will smash the mark this year when the tournament begins July 3.
It's yet another example of Moneymaker's lasting impact.
"Chris had the spotlight thrust upon him, and he's always been a gracious gentleman, sacrificing his privacy, his time and traveling the world promoting poker, helping the game and its events be bigger and better in the future," Stewart said.
"We owe a great debt of thanks."
Contact David Schoen at [email protected] or 702-387-5203. Follow @DavidSchoenLVRJ on Twitter.