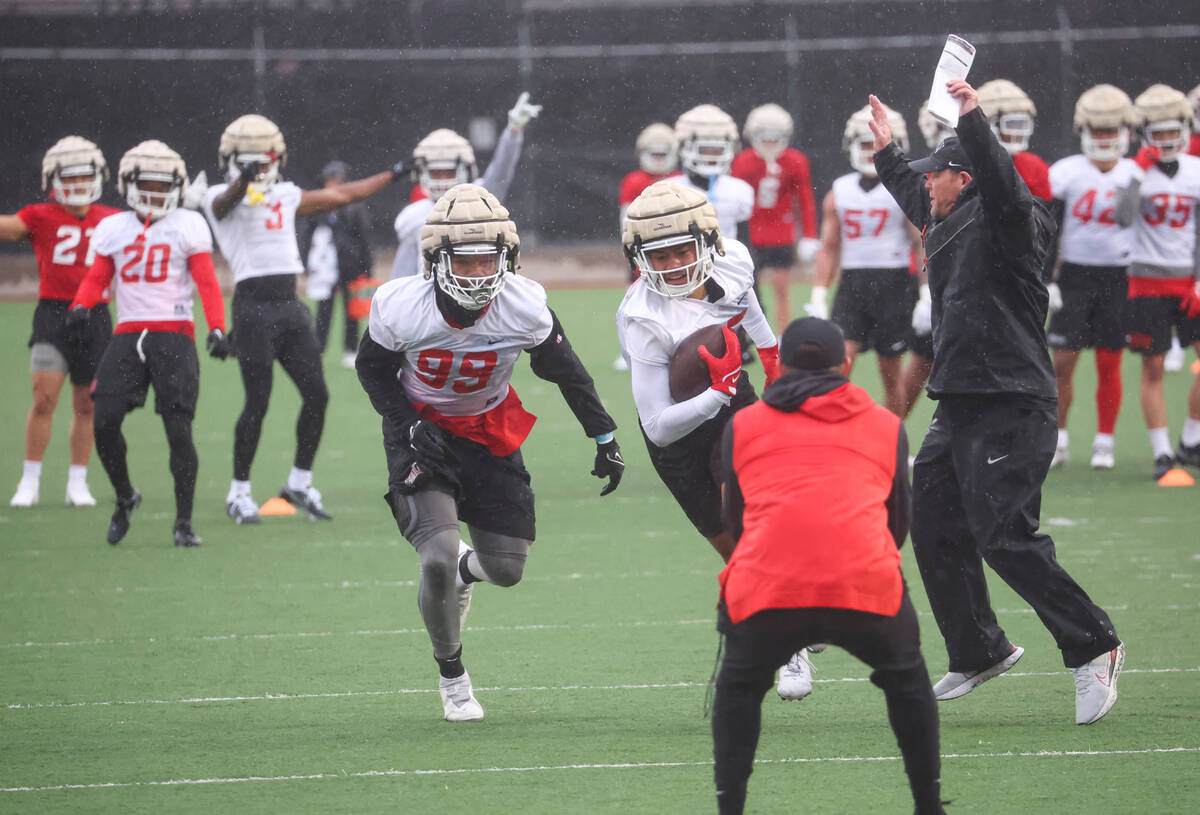 Storm clouds engulfed Rebel Park on Wednesday morning, unleashing a torrential downpour onto UNLV's first spring football practice — and merging with the proverbial cloud that already hovered over the program.
A Metropolitan Police report revealed that UNLV defensive lineman Ryan Keeler had complained of nausea in the days before his death Feb. 20, garnering an unspecified prescription Feb. 17 and triggering a Feb. 19 visit to program director of sports medicine Alfred Castillo.
"Unfortunately, I can't make comment on that because of the ongoing research and investigation with that," Rebels coach Barry Odom said minutes after practice concluded.
"I'm sorry that I can't. It would be unfair for me to make a comment on that."
What Odom would say, though, is that the last week "has been very difficult" and a "trying week," explaining that the Rebels have relied on one another to cope with Keeler's death. They'll have 14 more practices to bond for their late brother, whose jersey number — 47 — was said in unison by the entire team before dispersing from its final huddle.
"This is an opportunity for us to be together and work together and work for something together — for Ryan," said Rebels quarterback Doug Brumfield.
"That's our motivation this year. We're working for Ryan."
'Focus on each other'
The Rebels are left with no choice but to press forward without Keeler, whom Odom declined to discuss in detail. He said there are indeed "protocols within every organization" designed to protect players.
Athletic trainers are permitted to intervene as they see fit.
"Our team has had daily conversations, and that will continue on with our team together. How we focus on each other," Odom said. "But also how we focus on celebrating and honoring Ryan and his time that we had together."
The Rebels pledged to play for Keeler this season and began so Wednesday with an up-tempo practice under the guidance of Odom and a coaching staff that now includes former UNLV jack of all trades Hunkie Cooper, now the program's director of player development.
Former Bishop Gorman standout turned Notre Dame defensive back Nicco Fertitta is now a defensive analyst for UNLV.
"They've got a long history with the city," Odom said. "Our football program, I want it to be Vegas' team. The importance of the opportunities that are here with great support is going to make us have the opportunity for the student-athletes to have a great experience."
Now and moving forward.
Precipitation poured, wind raged and footballs fluttered before Odom corralled his players for one final huddle — reminding them they may face similar conditions at some point this season.
"I've never played in weather like this before," Brumfield said. "It's definitely something you want to face in practice as a player so when you come to the game, it's secondhand and easy."
Moving forward
Odom intends to emphasize the installation of the offensive, defensive and special teams schemes this spring. Even if "some of it won't look good at all," he said, because he'd rather teach now and fine-tune later.
Precisely what the spring season is for.
Brumfield steps into offensive coordinator Brennan Marion's up-tempo scheme, while Odom and defensive coordinator Mike Scherer retool the defense that used to include Keeler.
As practice concluded, the clouds dissolved — revealing a blue sky and with it the hope that Odom's first spring at UNLV signifies.
Leaving behind the proverbial one that hasn't yet gone away.
"When Coach Odom and his staff came in here, he made it his point from day one that we're going to be close. We're going to be a family," defensive back Jordyn Morgan said. "Leading into this past week, what happened made us closer."
Regarding Keeler, though, and dedicating this season specifically to him, "I'd rather not talk about it," Morgan said.
He's not the only one.
Contact Sam Gordon at [email protected]. Follow @BySamGordon on Twitter.