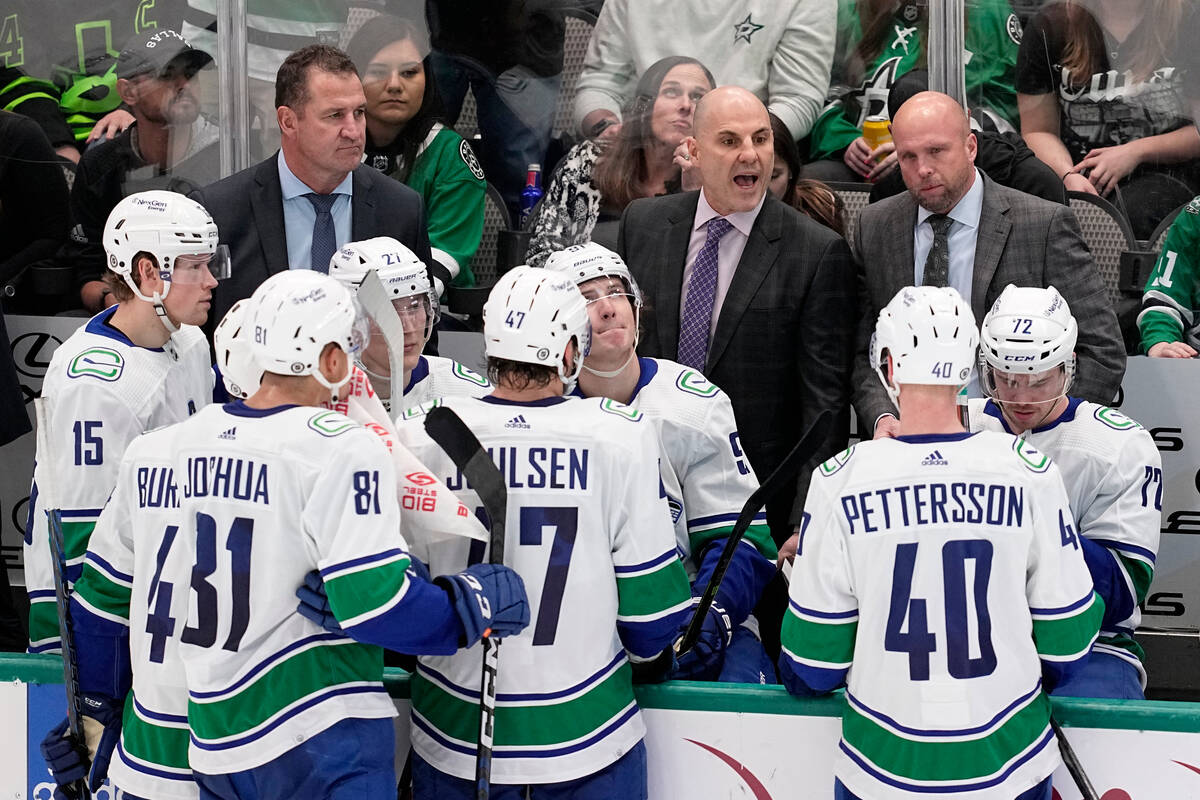 The Golden Knights begin an important three-game road trip within the Pacific Division in one of their favorite buildings.
The Knights play the Vancouver Canucks at 7 p.m. Tuesday in Rogers Arena. They're 6-0-2 all time in the rink, their fourth-best record in any NHL facility. That includes their 5-4 win there Nov. 21.
The Canucks, despite being on track to miss the playoffs for the seventh time in eight years, are a different team than the one the Knights faced before. New coach Rick Tocchet has sharpened Vancouver's game since taking over Jan. 22.
The Canucks have a 13-8-2 record since the coaching change and are 7-1 in their past eight games. Their defensive game in particular has improved.
"When you start winning, it breeds confidence," coach Bruce Cassidy said. "Whatever way they're playing obviously has hit home with the players because they're keeping the puck out of the net, and I don't think it's all goaltending."
The Knights, winners of five of their past six, also have plenty of reasons to feel happy with their game.
They remain atop the Pacific Division and Western Conference standings with 12 games left. That lead will be tested the rest of the way, however.
The matchup with Vancouver starts a run of five straight division games for the Knights. Calgary, currently the first team out of the playoffs in the West, is up next. Then the Knights have a home-and-home with Edmonton, which is six points behind them. A trip to San Jose finishes it off.
The games should be a good proving ground for the Knights, who are only 8-8-2 against the Pacific. That includes a 1-1 record in two games against the Canucks. The Knights' first chance to turn things around comes Tuesday.
"Obviously, it's going to be a tough stretch," right wing Jonathan Marchessault said. "Teams want to beat us, right? We're top of the West. They're going to be ready for us."
Lineup and starting goaltender information for the Knights was not immediately available. Thatcher Demko is expected to start for the Canucks.
Knights at Canucks (7 p.m.)
TV: AT&T SportsNet
Radio: KKGK (98.9 FM, 1340 AM)
Line: Knights -137; total 6½
Knights record: 43-21-6
Canucks record: 31-33-5
Head-to-head: Knights 1-1-0
Contact Ben Gotz at [email protected] Follow @BenSGotz on Twitter.