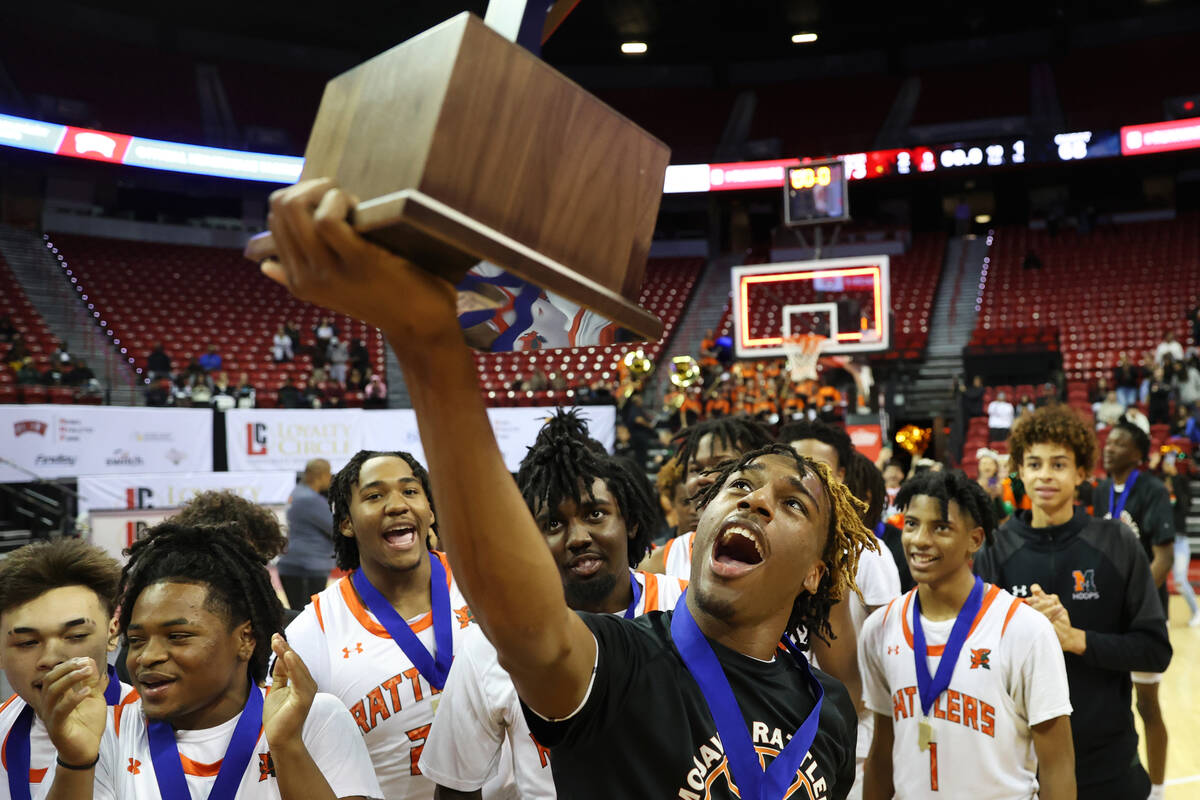 Mojave and Silverado's third meeting of the season was much closer than their first two games.
Neither team held much of an advantage in a fast-paced, back-and-forth Class 4A boys basketball state title game.
In a tight matchup, the Rattlers relied on their best player.
Sophomore guard C.J. Shaw scored 37 points to lead Mojave to a 73-68 win over Silverado to claim its second straight state title and 16th consecutive win Saturday at the Thomas & Mack Center.
"It feels great. It feels surreal," Mojave coach KeJuan Clark said. "You set expectations and you set goals, then you do what you have to do to accomplish it. The kids bought into the idea of winning two (state titles), and they got it done."
Silverado gave Mojave (23-5) fits in the third quarter as it used a 10-0 run over three minutes to tie the game at 44 midway through the quarter.
The Skyhawks (16-10) led 54-51 late in the third, but quickly lost it after Mojave scored two quick baskets in the final minute to lead 55-54 entering the fourth.
Mojave never gave the lead back.
The Rattlers started the fourth with a layup from Shaw off a Silverado turnover. Senior guard Giali Chapman made a layup, and Shaw hit a 3-pointer to give Mojave a little bit of breathing room.
Shaw added four more points late in the quarter, and sophomore guard Zaccarion Jackson scored seven in the fourth to hold onto the win.
"We had a lot of confidence," Shaw said. "There was a lot of grittiness and hustle out there tonight."
Mojave led 19-16 after the first quarter. Shaw kept Mojave ahead in the second quarter, scoring 16 points in the quarter to give the Rattlers a 39-31 halftime lead.
"He's that guy," Clark said. "He's just that guy. He's that kid that everybody needs a player like. When you have a player like that, he steps up in moments like these."
Mojave had defeated Lake League rival Silverado twice in the regular season, winning by 26 points on Jan. 20 and 25 points on Feb. 3.
"They were prepared. They played hard," Clark said of Silverado. "They went to score and finished everything. They were very prepared, and we had to be able to make those adjustments as well."
Silverado found some success breaking through Mojave's full-court pressure defense. As the game remained tight, Shaw said the experience of winning a state title last year paid dividends.
"Anything could happen (in a state title game)," Shaw said. "Anything can happen, so we just locked in and stayed confident."
After winning two state titles in 4A, a move to 5A awaits Mojave in the upcoming realignment cycle. The Rattlers will return a core group of players who have won state titles the last two seasons.
"We're just trying to build our culture," Clark said. "It's all about our culture in North Las Vegas. We'll go and continue that in 5A, and our goal will be the same. We want to play the best and be the best."
Contact Alex Wright at [email protected]. Follow @AlexWright1028 on Twitter.