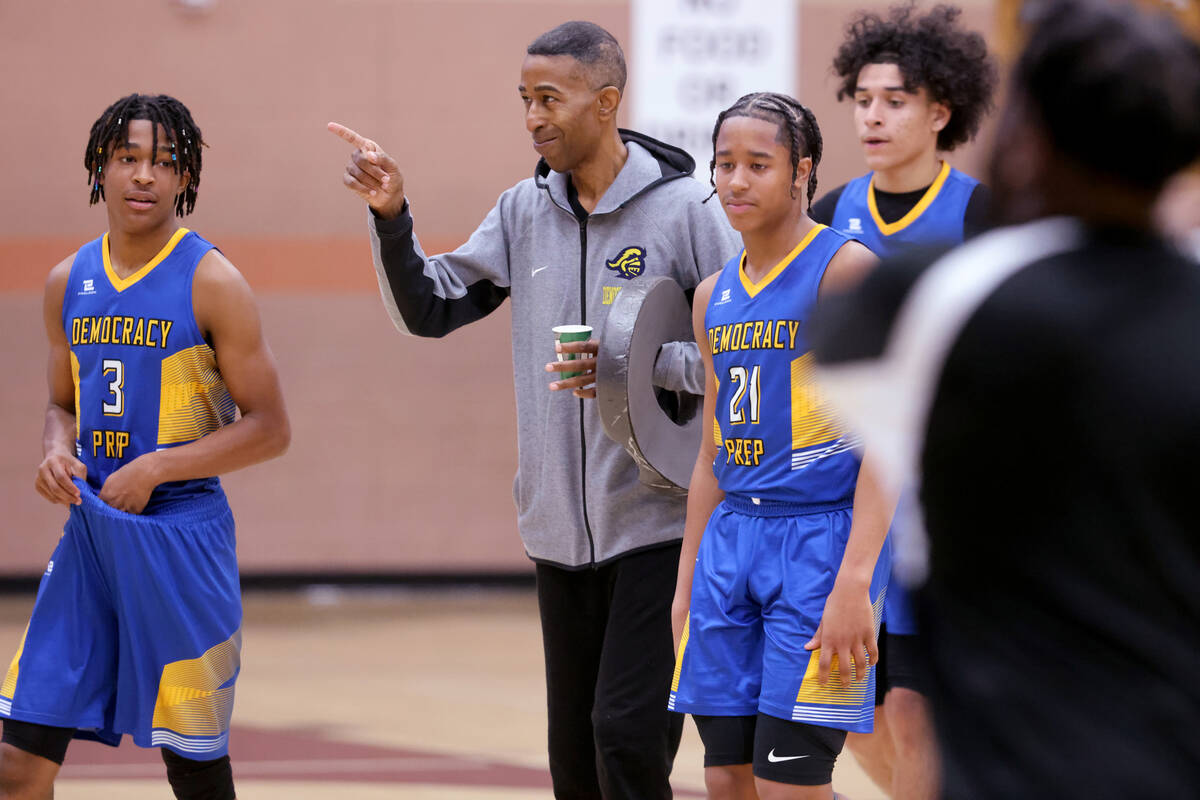 Democracy Prep's basketball players took the floor Saturday looking not only to get one final win, but also to fulfill a promise.
They were able to do both.
Freshman Tai Coleman helped lead the way with 22 points as the Blue Knights completed an emotional season with a 64-58 victory over defending state champion The Meadows in the Class 2A boys state title game at the Thomas & Mack Center.
Tai Coleman and brother Tru Coleman, a junior, played major roles in the victory. Together they fulfilled the promise they made in September when their father, assistant coach Mark Coleman, announced to the team that he was dying of prostate cancer.
"Everything we've done this season has been about (Mark Coleman)," Blue Knights coach Cory Duke said. "He didn't like that, but we wanted to get him a state championship."
Mark Coleman died Feb. 4, but the players did not forget their promise.
Democracy Prep guard Jo Stroughter, a freshman, led all scorers with 24 points.
Democracy Prep (22-8), which was 0-3 against The Meadows (24-5) this season heading into Saturday's game, fell behind early but inched back to take a 31-28 lead at halftime. Though he finished with just three points, Tru Coleman took over in the third quarter, controlling the defensive tempo and making multiple decisive plays, Duke said.
Duke largely credited Mark Coleman's sons with the victory.
"The tenacity and grit they showed after their father died has been remarkable," Duke said. "Mark's presence was everywhere today. We felt him smiling down on us."
— No. 1S Democracy Prep 57, No. 2S Needles 40 — At the Thomas & Mack Center, the Blue Knights (27-3) won their first state championship with a convincing victory over the Mustangs (22-10) in the 2A girls title game.
Freshman guard Keonni Lewis had 14 points, four assists and four steals for Democracy Prep, which jumped ahead early and never looked back.
Freshman guard Bray'ana Miles helped the Blue Knights with eight points, nine rebounds, four steals and four assists, while freshman teammate Diamond Zvulun added 10 points.
Class 3A
— No. 1S Somerset-Losee 59, No. 1N Elko 52 — At Reno, sophomore guard Antwan Jones scored 18 points to lead the Lions (23-3) to their first state championship with a victory over the Indians (20-9) in the boys title game at Lawlor Events Center.
Sophomore guard Roderick Johnson scored 12 points for Losee, which narrowly made the championship game when junior KeSean White nailed a game-winning 3-pointer at the buzzer against Fernley in Friday's semifinals.
Somerset-Losee led 29-26 at halftime before taking control in the third quarter with stifling defense. Junior Malachi Richardson and freshman Daniel Kieran finished with seven points apiece.
— No. 2N Lowry 58, No. 1N Fernley 53 — At Reno, the Buckaroos (26-4) held off a late rally to defeat the Vaqueros (30-3) for the girls title.
Class 1A
— No. 1S GV Christian 72, No. 1C Mineral County 60 — At Reno, the Guardians (21-9) grabbed a big lead and hung on for the win over the Serpents (24-4) in the boys title game at Lawlor Events Center.
Senior Joshua Valencia scored 24 points for Green Valley Christian, which led by as many as 18 points before seeing the lead cut to four in the fourth quarter.
Sophomore forward Thomas Pulcini scored 17 points for the Guardians, who took over late after a Mineral County technical foul and key shooting by Valencia in the final minutes. Senior teammate Brennan Killoran added 13.
— No. 1W Pyramid Lake 59, No. 1E Eureka 23 — At Reno, the Lakers (22-3) rolled past the Vandals (21-2) for the girls title.