An NFL rookie found a way to outearn the Pro Bowlers this weekend in Las Vegas.
Running back Ronnie Rivers, a Fresno State product who saw action in eight games with the Los Angeles Rams, won $514,837 on Saturday after hitting a mega jackpot on Three Card Poker at Caesars Palace, according to a Caesars Entertainment spokesperson.
(By the way, each member of the Pro Bowl's winning NFC roster earned $84,000, while the losing AFC counterparts picked up $42,000 each.)
Rivers, 24, was in town to celebrate his and his mom's birthday. He said he plans on taking his winnings and buying a house.
Another type of rookie scored Monday at Harrah's Las Vegas.
Timothy Roesler of Athens, Wisconsin, won $117,000 after hitting a major jackpot on Ultimate Texas Hold'em.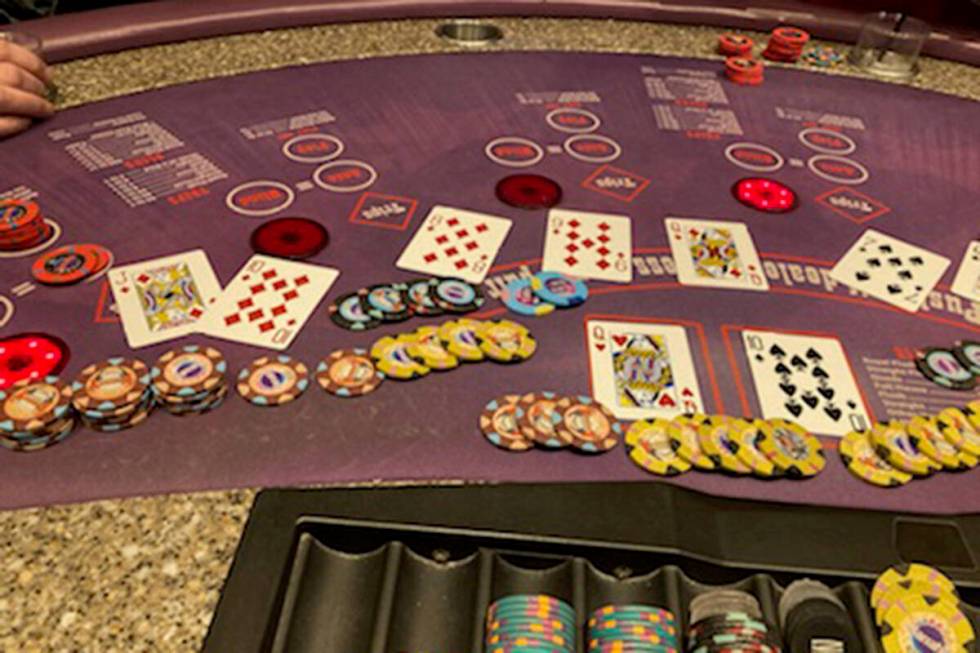 Roesler was playing the game for the first time and landed the win just after one hour.
Winners across the Las Vegas Valley
Binion's
A North Dakota visitor feels the warmth of Vegas.
$1 ➡️ $11,000 💸
Congrats to a guest from North Dakota who hit the Grand Progressive Jackpot this weekend on the Dragon Link Slot Machine! 🎰#moneymonday #binions #binionslv #binionscasino #jackpot #lasvegas #lasvegascasino #dtlv pic.twitter.com/8uOJZwuAQd

— Binion's Gambling Hall & Hotel (@BinionsLV) February 6, 2023
Boulder Station
Big score for $5.
BUFFALOOOOOOOOOO WINNER! 🤑
BET 👉 $5.00
JACKPOT 👉 $12,150 pic.twitter.com/BsArOI329x

— Boulder Station (@boulderstation) February 3, 2023
California
Hold two, get three more.
♦️ ROYAL FLUSH ALERT ♦️

Are $10 hands bold? Sure, but so are $10K+ handpays, as demonstrated by this Boyd Rewards guest from Hawai'i! 💰 pic.twitter.com/VKT3G1ReOu

— California Hotel & Casino (@thecalcasino) February 4, 2023
Cannery
A wonderful return on $2.25.
Turning $2.25 to $13,731 is always a great day. 🤑
⠀⠀⠀⠀⠀⠀
Congratulations on the jackpot win! pic.twitter.com/iW3XapF8Bi

— Cannery Casino (@CanneryCasino) February 4, 2023
Fremont
Another winner from Hawai'i.
MAJOR BUFFALO WINS are already on the books to kick off February! 🤑

Quite the haul for this Boyd Rewards guest from Hawai'i: $11,504.96, cash in hand. pic.twitter.com/SEheihvoMO

— Fremont Hotel & Casino (@fremont) February 4, 2023
Gold Coast
Video poker payouts are strong in this one.
Our video poker machines have been 🔥 recently! pic.twitter.com/tbyrIsNdvW

— goldcoastcasino (@goldcoastcasino) February 6, 2023
Jokers Wild
Anyone catch Snoop Dogg in "The Joker's Wild" reboot? Anyone?
🐺💨🏡 This first-time guest blew the house down with this incredible $18,964 win! 🐷 🐷 🐷 pic.twitter.com/mIHsgOhX6d

— Jokers Wild Casino (@jokerswild) February 2, 2023
⚡ The big wins keep on coming! Congratulations to the lucky winner of this electric $19,353.56 jackpot! ⚡ pic.twitter.com/oivD2xYOxO

— Jokers Wild Casino (@jokerswild) February 3, 2023
Main Street Station
The $6 spin succeeds.
Big wins are hot off the presses this weekend! 💰

Congratulations to this local lucky winner on an awesome $12,428.15 handpay! pic.twitter.com/mkXUSVrwZv

— Main Street Station Casino, Brewery & Hotel (@mstreetcasino) February 4, 2023
Oyo
Way to go, Jose!
Jose found the treasure box last night and hit this $10,019 #Jackpot. Congratulations on your big win! #LivingTheGoodLife pic.twitter.com/2X3PUVJ50d

— OYO Hotel & Casino Las Vegas (@oyolasvegas) February 4, 2023
Palace Station
Big win for Jeannette!
Lucky guest, Jeannette won big today! She's taking home $10,300 for 5 Aces and an additional $2,000 for the Fortune Bonus.

Congratulations, Jeannette! 🤩 pic.twitter.com/chEHhzD8es

— Palace Station (@palacestation) February 5, 2023
Sometimes, 88 cents is enough.
🚨 JACKPOT ALERT 🚨
BET ➡️ .88 CENTS
JACKPOT ➡️ $12,294.74 pic.twitter.com/xSWKAdMcRH

— Palace Station (@palacestation) February 3, 2023
Pass Casino
Genghis Khan gets around.
WHAT A WIN!!! This could be you next! It pays to play at the Pass!#casino #poker #gambling #bet #jackpot #casinoonline #betting #slots #lasvegas #onlinecasino #roulette #judionline #money #slot #win #blackjack #livecasino #sportsbetting #vegas #pokeronline pic.twitter.com/uRWWTQiKFi

— The Pass Casino (@PassCasino) February 3, 2023
Rampart
Dragon Link: Happy & Prosperous sets the pace among these winners.
Congratulations to our many #luckywinners! Here are 4 from today! We are thrilled for every #jackpotwinner! You could be next! ($1 bet won the $11,285 in the first image). https://t.co/Z0guRUGJzL #jackpot #rampartcasino #luckycasino #jackpotwinners #jackpot #lasvegas #vegaswinner pic.twitter.com/fOVkdmyqzU

— Rampart Casino (@RampartCasino) February 2, 2023
Sam's Town
How about a real win on slot reels!
💲 BIG money, BIG money!! 💲 Check out this incredible $22,000 win! pic.twitter.com/ACVAuYzohT

— Sam's Town Las Vegas (@samstownlv) February 4, 2023
Contact Tony Garcia at [email protected] or 702-383-0307. Follow @TonyGLVNews on Twitter.