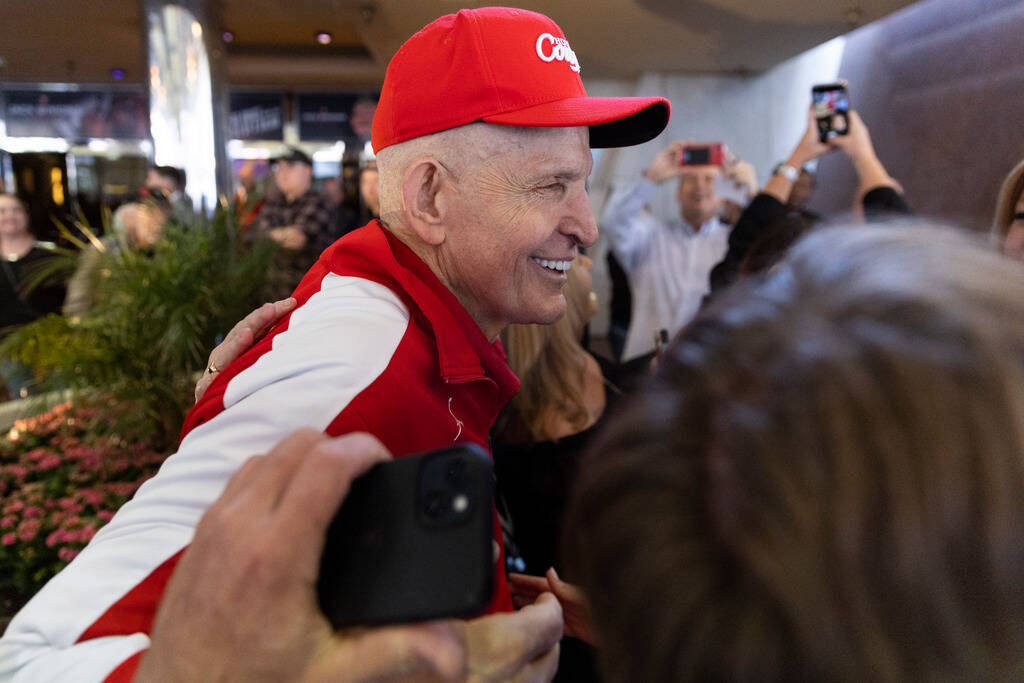 Before Mattress Mack lost $2 million in bets on the Kentucky Derby, he joked about his gambling losses on the NFL playoffs when he encountered Chiefs quarterback Patrick Mahomes at Churchill Downs.
"You cost me millions betting against you," grinning Houston furniture store owner Jim "Mattress Mack" McIngvale told Mahomes as he shook his hand on the red carpet.
The reigning NFL MVP laughed and said, "Sorry about that one. You've got to be with me next time."
McIngvale, 72, lost $3 million in money line bets against Kansas City in the 2020 playoffs: $1 million on the Texans, who blew a 24-0 lead in a 51-31 loss in the divisional round; $1 million on the Titans, who squandered a 17-7 lead in a 35-24 loss in the AFC championship; and $1 million on the 49ers, who blew a 20-10 fourth-quarter lead in a 31-20 loss in the Super Bowl.
"The Niners had them with a few minutes left, and he still beat them," McIngvale said.
Mahomes also cost McIngvale a shot at winning $9 million on February's Super Bowl when he led the Chiefs to a 23-20 win over the Bengals in the AFC title game. McIngvale had a $750,000 futures wager on Cincinnati at 12-1 odds to win it all.
"I didn't bet the AFC championship game because I was pulling for the Bengals to win," he said. "That would've given me a $9 million free roll in the Super Bowl."
On Saturday, McIngvale lost a $1.2 million win bet on favorite Angel of Empire, who finished third behind winner Mage and runner-up Two Phil's.
He lost an additional $800,000 on exactas and trifectas that included Angel of Empire, he told the Review-Journal.
"He was keyed in all of them in first, second and third place," he said. "That kept his price fairly high on parimutuel on the win bet."
McIngvale said he would've won $2.3 million had he dropped out Tapit Trice and included Two Phil's in trifectas as he was inclined to do. But his group of advisers advised against it and he followed their advice.
He noted that Two Phil's had the lowest number of any horse in the Derby on the respected Ragozin sheets, which are performance records in which the lowest numbers are best. But McIngvale's advisers dismissed his convincing victory in a Kentucky Derby prep race because it was run on a synthetic track at Turfway Park.
"The guy said horses that run well on synthetic don't run well at Churchill," he said. "He said it doesn't translate."
McIngvale thought to himself that Smile Happy — son of his stallion, Runhappy — ran well at Turfway and then posted the highest Beyer speed figure of the year in a distance race in Friday's Alysheba Stakes win at Churchill.
"I wanted to argue that it did translate to Smile Happy, but I didn't feel like arguing," he said. "And there went my two million, three hundred thousand.
"Other than that, how was the play, Mrs. Lincoln?"
The $2 million loss comes on the heels of losing $4.15 million in wagers on the Houston Cougars to win the NCAA men's basketball title.
The bets are the latest in a series of multimillion-dollar wagers to reduce risk on furniture promotions. In this case, customers who bought $3,000 or more of furniture would've received a refund if the favorite won the Derby.
McIngvale now turns his attention to the Astros. He won a record $72.6 million in wagers on the Astros last year when they won the World Series and he has $1.9 million riding to win $11.4 million on Houston to repeat as champion.
"I'm on a little bit of a losing streak," he said. "But tough times never last. Tough people do."
Contact reporter Todd Dewey at [email protected]. Follow @tdewey33 on Twitter.