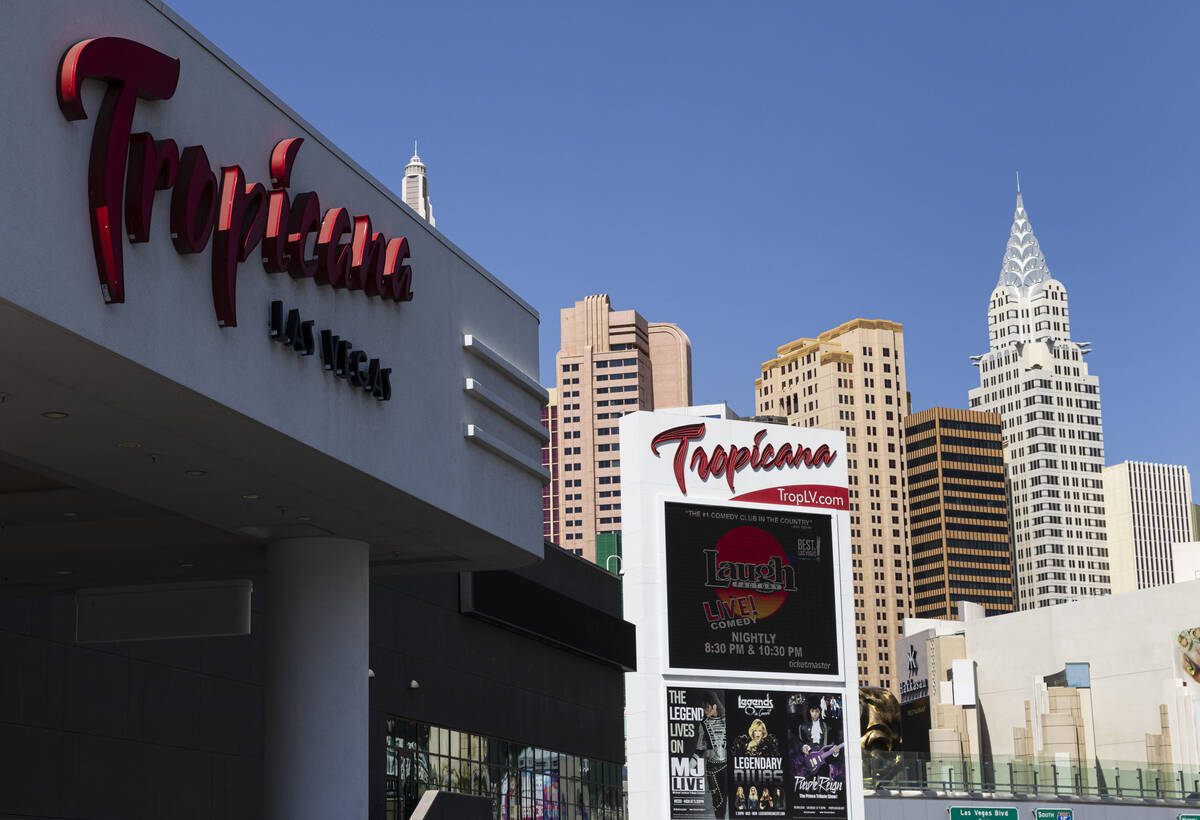 The Oakland Athletics have shifted their Las Vegas stadium plans and have entered into an agreement with Bally's Corp. to build a $1.5 billion, 30,000-seat ballpark where the Tropicana now sits.
Plans call for the Tropicana to be demolished with the A's set to build a partially retractable roof stadium on nine of the 35 acres of the south Strip site, a person with knowledge of the dealings told the Review-Journal Tuesday.
The move will lower the $500 million public funding ask the A's were seeking tied to the Wild Wild West to $395 million. The A's last month announced they had entered into a binding land agreement with Station Casinos parent company Red Rock Resorts for that off-Strip land.
Representatives from the A's and Bally's Corp. weren't immediately available for comment on the site switch. A Red Rock Resorts spokesman offered no comment on the development.
The deal includes Bally's Corp. having an option to construct a hotel-casino on the remaining acreage, the source indicated.
Tentative plans still call for the A's to break ground on a Southern Nevada ballpark next year and to have the team open play there in 2027, according to the source. There is potential for that opening date to be pushed to 2028, due to the needed demolition of the Tropicana.
The Tropicana is located at its namesake street and Las Vegas Boulevard, where 90,000 vehicles pass through the intersection daily, according to Bally's Corp. There are also over 25,000 hotel rooms within walking distance of the property.
The details to the exact stadium funding bill are still being worked out for the Tropicana, but they are expected to be similar to the previous bill that was being worked on for the Wild Wild West, the source indicated.
The $500 million in public funding for the A's were seeking for the Wild Wild West site would be generated by a special tax district around the planned ballpark, economist Jeremy Aguero of Applied Analysis, who is working with the A's on its funding plan, said last month.
The tax district would be created only if the A's ended up constructing a stadium at the site. The site would generate taxes including sales, property, live entertainment and modified business levies.
The issuance of bonds that would be made to help finance a Las Vegas ballpark, which would be paid back over a period of 30 years with the taxes generated at the ballpark. Tied to that, the A's would be required to sign a 30-year nonrelocation agreement as part of any public financing deal.
Contact Mick Akers at [email protected] or 702-387-2920. Follow @mickakers on Twitter.