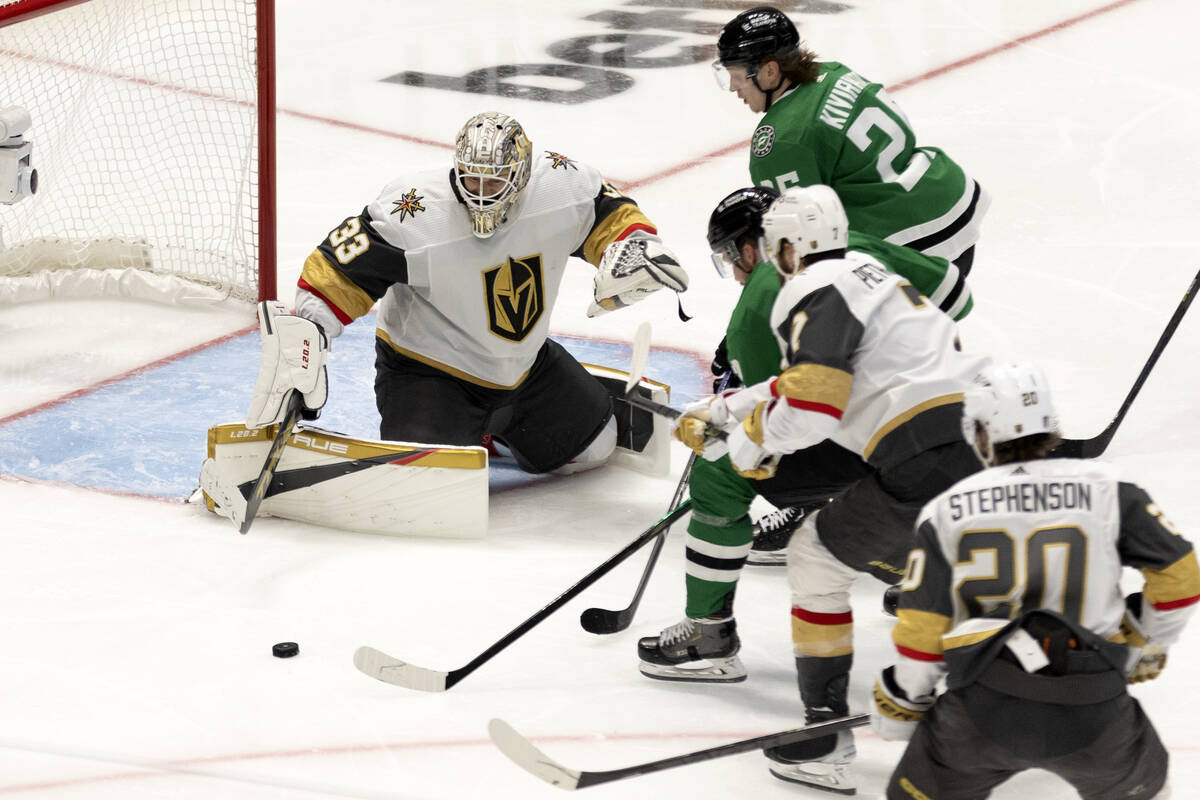 Dallas Stars coach Pete DeBoer was given a quote from the late South African bishop Desmond Tutu for inspiration after his team fell into a 3-0 hole in the Western Conference Final on Tuesday.
"There is only one way to eat an elephant: A bite at a time."
The Stars got their first taste with their 3-2 overtime win in Game 4 on Thursday to stave off elimination. The Golden Knights don't want to let them have another.
The Knights, up 3-1, have the chance to close out the series at home when Game 5 takes place at 5 p.m. Saturday at T-Mobile Arena. They can secure their spot in the Stanley Cup Final with the Florida Panthers and become only the eighth team in NHL history to reach multiple Finals in its first six seasons.
The Knights are 2-1 in closeout games so far.
"In terms of an approach to the game, it's finding that balance between knowing what's at stake and also approaching it as another playoff game," defenseman Alec Martinez said. "I think the guys have done a good job of going into games with that opportunity."
The Knights have reason to be confident.
They're an NHL-best 6-2 at home this postseason. Teams that start with a 3-0 lead have an overall series record of 201-4 in the playoffs and are 47-0 the round before the Final.
The Knights still don't want to give the Stars any reason to start feeling confident. And some of Dallas' best players did get going in Game 4.
Left wing Jason Robertson scored two goals for the first time in the playoffs. Center Roope Hintz picked up two assists after being held without a point for two games. Goaltender Jake Oettinger made 37 saves for his best performance of the series after getting pulled 7:10 into Game 3 for allowing three goals on five shots.
"Their top players finished plays for them," coach Bruce Cassidy said. "That's what you got to guard against, that those guys don't get excited now to play."
The Knights should be fired up themselves knowing what's at stake.
They've displayed impressive resilience during the playoffs, always seeming to bounce back from a bad period or a poor game. They have yet to lose two in a row in the postseason. They've had a two-game losing streak twice since the All-Star break, which ended Feb. 7.
The Knights are 5-3 in potential series-clinching games at home. The Stars are 14-17 when facing elimination on the road.
The Knights did not hold a morning skate Saturday so lineup information was not immediately available. The Stars will be without suspended captain Jamie Benn and injured right wing Evgenii Dadonov, who DeBoer said did not travel to Las Vegas.
Dallas will still try to carry its momentum over from last game to earn its next bite of the elephant. The Knights are 5-1 when they have a 3-1 lead in a series, but they have reached a Game 7 three times.
"I think there's always a team that puts themselves in this spot and climbs out of it," DeBoer said. "It doesn't happen all the time, but it happens enough that why not us?"
Knights vs. Stars, Game 5 (5 p.m.)
TV: KTNV-13
Radio: KKGK (98.9 FM, 1340 AM)
Line: Knights -152, total 5½
Contact Ben Gotz at [email protected]. Follow @BenSGotz on Twitter.