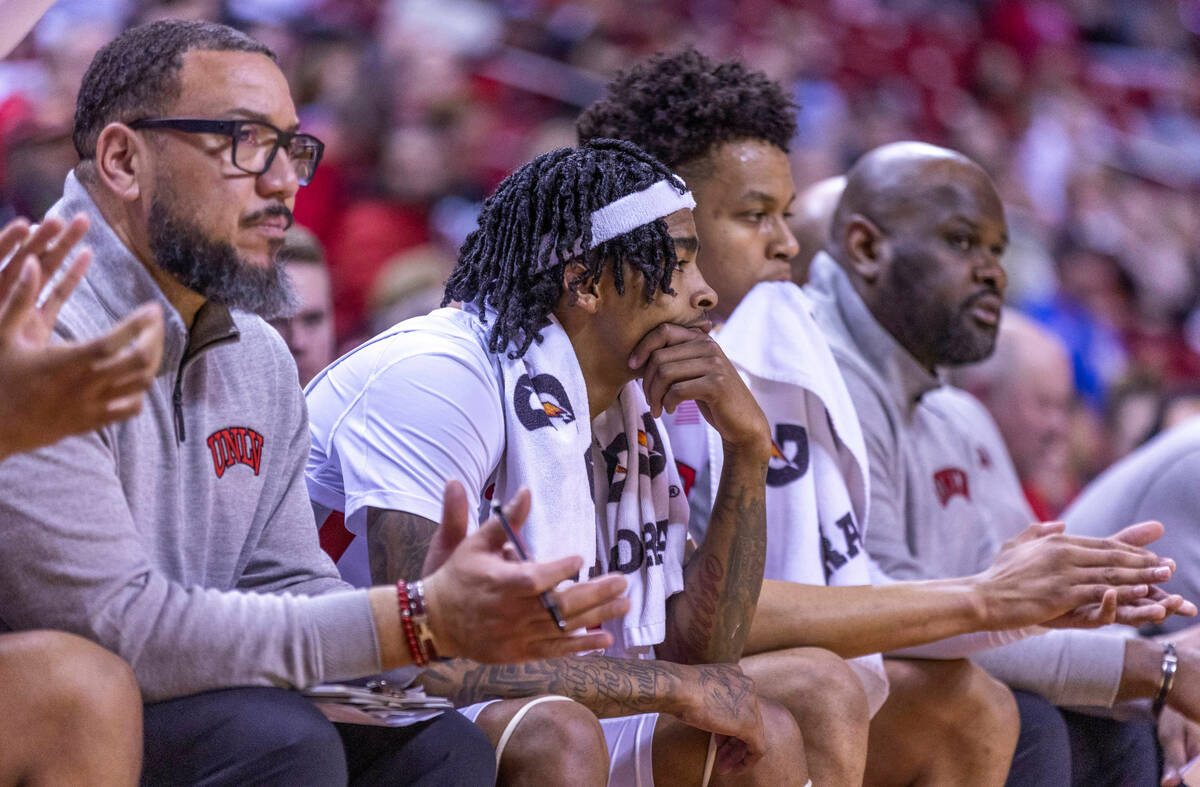 UNLV senior guard Justin Webster called the Rebels' 91-66 loss Wednesday to Utah State "the worst game" he's ever played in during his basketball career.
To Webster, the Rebels' effort was so poor that before he took questions from the media following the defeat, he said he needed to deliver an apology.
"As leaders, we need to apologize for the way we presented ourselves tonight," Webster said. "That's not basketball, not UNLV basketball. It starts with us as leaders of the team. We'll take that burden."
Utah State (23-7, 12-5 Mountain West) scored 42 points in the paint and 32 points off 17 UNLV turnovers to cruise to its third straight win, putting away the Rebels (17-12, 6-11) in their regular-season home finale at the Thomas & Mack Center.
"That's the weirdest feeling. This has been a group that no matter what has still competed," UNLV coach Kevin Kruger said. "We competed in stretches (against Utah State). We haven't really had a game that had that type of feel to it."
Fifth-year guard EJ Harkless scored 20 points to lead UNLV, but only scored five in the second half. Sophomore wing Shane Nowell added 10, and sophomore guard Jackie Johnson III scored nine. Harkless made seven field goals, and no other Rebel made more than three.
With the Rebels down 44-32 at halftime, Johnson and sophomore guard Keshon Gilbert came out aggressive in the second half, trying to provide Harkless with some much-needed help on the offensive end to start a comeback attempt.
Gilbert scored five quick points to cut the Utah State lead to single digits. He saved a loose ball from going out of bounds, and it led to a Johnson 3-pointer.
Johnson knocked down another 3-pointer, and UNLV trailed only 49-45 with 15:55 left in the second half.
Utah State junior guard Steven Ashworth quieted the crowd and stalled UNLV's momentum with a step-back jumper on the ensuing possession. He then knocked down two 3-pointers off a pair of UNLV turnovers.
The Aggies quickly pushed the lead to 57-45 with 13:24 remaining. Ashworth finished with 27 points as Utah State won its fifth straight over UNLV and eighth in the last 10 meetings.
"We had some momentum, a bounce in our step, a little bit of positive energy going," Kruger said. "And then it went downhill from there."
The Aggies shot 73.1 percent from the field in the second half and made six of nine second-half 3-pointers.
Harkless didn't score his first points of the second half until 5:30 left in the game on a layup as UNLV shot 26.9 percent in the second half.
"It felt like an energy shift," fifth-year guard Jordan McCabe said. "On one side of the ball, you have (Utah State) fighting for an NCAA Tournament appearance. That's what we felt. We felt that shift. We felt the urgency shift for a team that felt like they needed a win."
UNLV led 15-12 with 12:28 to go in the first half after a 3-pointer from Johnson. But the Rebels didn't score again for more than five minutes.
Utah State went on a 14-0 run the next 5:40 to take control in the first half. A layup from Harkless with 5:56 left in the first half ended the long scoring drought, but the Rebels found themselves trailing 31-19.
Sophomore guard Max Shulga added 19 for Utah State. Shulga and Ashworth each scored 14 points in the first half.
"I've never really been a part of a game where we all came in and didn't compete," Webster said. "Effort, execution, we didn't do any of those things."
UNLV concludes the regular season at UNR at 2 p.m. Saturday.
"We've got things we've got to talk about," Kruger said. "But this is still a group where we want to get better every day and put ourselves in a position to win whatever games we have left."
Contact Alex Wright at [email protected]. Follow @AlexWright1028 on Twitter.