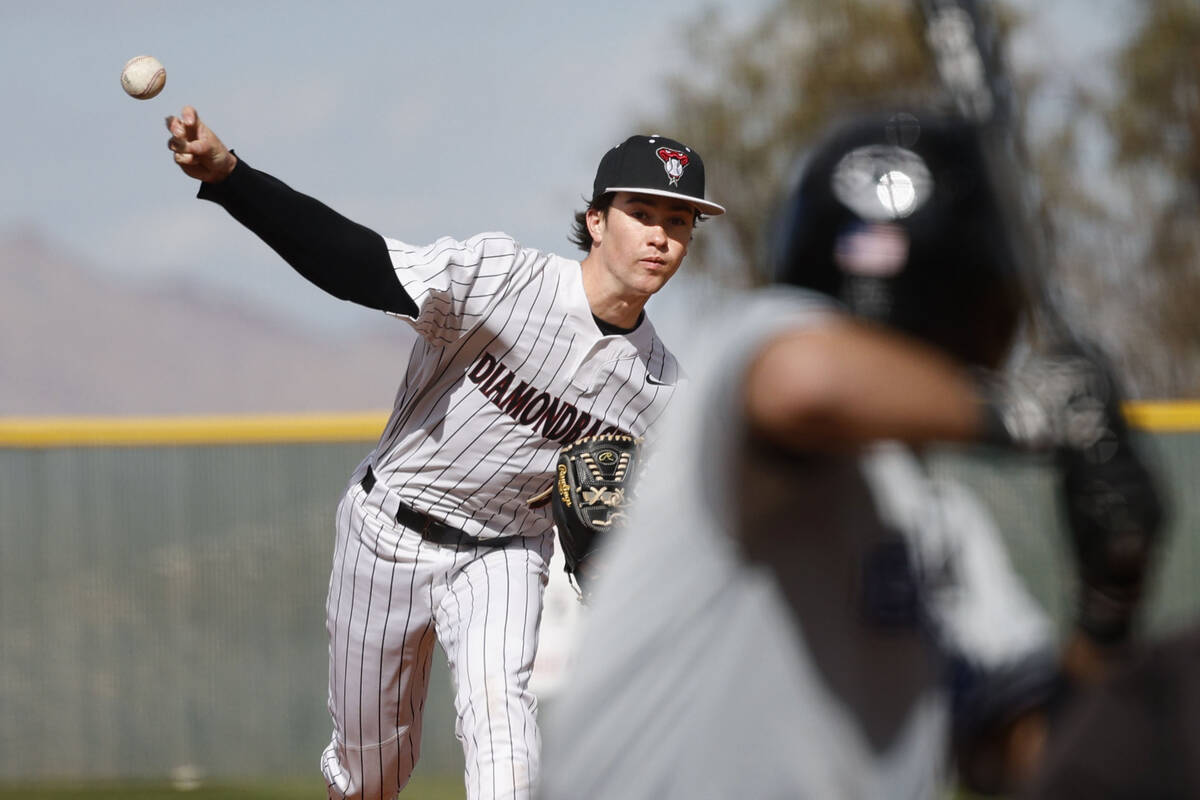 Desert Oasis pitcher Seth Graham-Pippin held his breath a bit as he watched shortstop Ryan Martin track a blooper to shallow center with two outs in the bottom of the seventh on Wednesday.
But Martin came up with a diving catch to close out a 2-1 victory for Graham-Pippin and the Diamondbacks as they handed visiting Bishop Gorman its first loss of the season.
"I was a little worried out there," Graham-Pippin said. "I thought it was going to be a little blooper, but it was a great play by Ryan."
Martin's catch capped an outstanding performance by Graham-Pippin, who went the distance and limited the Gaels to an unearned run on two hits. He struck out seven and walked two.
"He was phenomenal today," Desert Oasis coach Paul Buboltz said. "He was a real competitor and he had all of his pitches working and shut a real good lineup down."
Graham-Pippin retired 11 of the final 12 batters he faced. But he did give up a sharp single up the middle by Burke Mabeus to lead off the seventh. After retiring the next two batters, the home plate umpire ruled that an 0-2 pitch hit Anthony Marnell in the foot. But after meeting with the field umpire, Marnell was sent back to the plate, and Graham-Pippin was able to close out the win for Desert Oasis (10-3, 2-0 Class 5A Mountain League).
"That was great, especially after that call," Graham-Pippin said. "It got turned back (and) it kind of just hyped me up that I needed to finish this game and win it. It felt great."
Graham-Pippin ran into a little bit of trouble in the middle innings, but was able to pitch his way out of it. He walked the first two batters in the third inning, but got Boardman to hit into a double play and retired leadoff man Maddox Riske on a fly ball to end the inning.
A pair of errors and a wild pitch in the fourth led to Gorman's only run, but Graham-Pippin again got out of trouble, striking out Gunnar Myro and getting Nolan Eberwein to pop out to short to strand runners on second and third.
"We had a couple of errors, but we worked our way out of it," Buboltz said. "And I think that's the turning point in the game."
Graham-Pippin seemed to get stronger from there, striking out four over the final three frames. The senior right-hander was able to lean on his curveball down the stretch.
"We talked about it in the dugout," Buboltz said of the breaking ball. "He wanted to go back to it a bunch more, and it was pretty filthy the last couple innings."
The Diamondbacks took the lead in the bottom of the first when Jett Gilliam's hard-hit single got past center fielder Aiden Pollack and Gilliam streaked around the bases to score. They added a run in the third when Noah Griffith hit a shot past Riske at shortstop to score Connor Jacob.
Seth Lyons went 2-for3 for Desert Oasis, which had six hits. Mabeus had both hits for Gorman (8-1, 2-1).
"I think media-wise, people are going to be more intimidated by us," Graham-Pippin said. "We're kind of the underdogs for a little bit. Winning that game gives us so much more growth, and we're going to do big things this season, for sure."