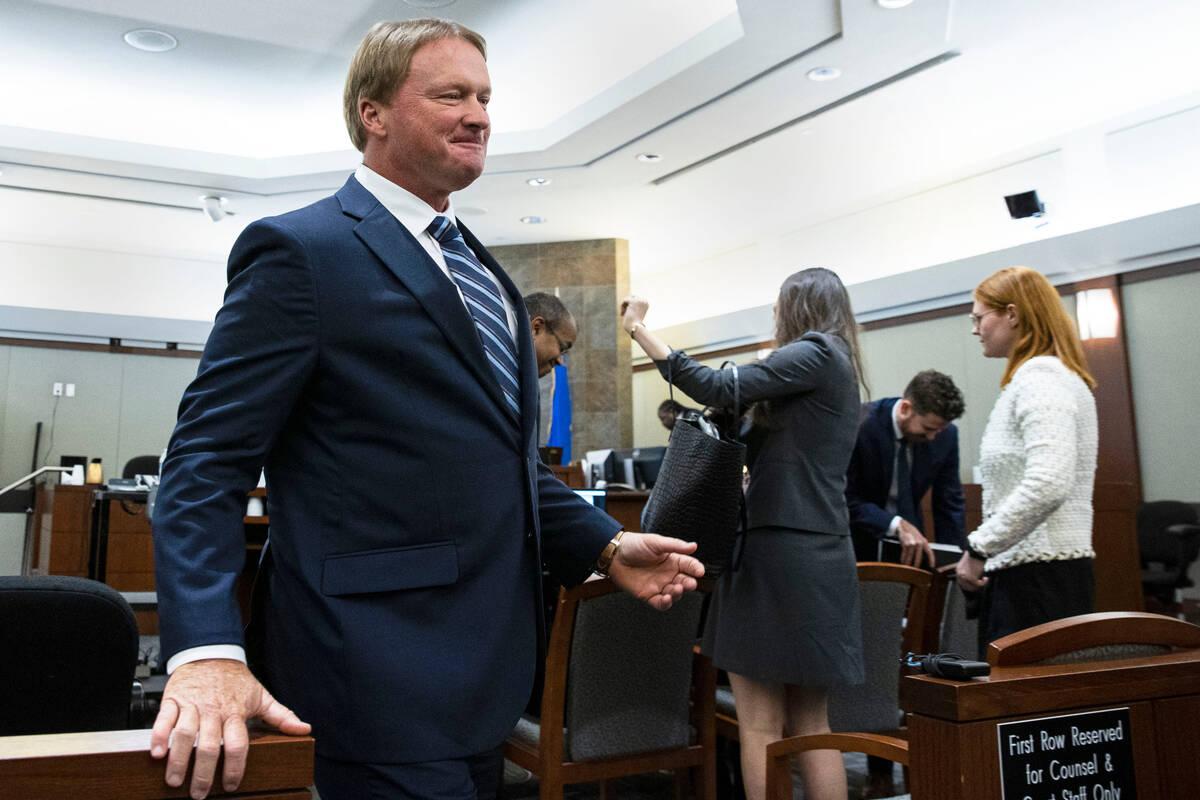 In an opening brief filed in an appeal to force Jon Gruden into an arbitration process, the NFL claimed the former Raiders coach agreed to arbitrate disputes when he signed his 10-year, $100 million contract with the team.
Gruden sued the league and NFL commissioner Roger Goodell in November 2021, claiming that the league intentionally leaked derogatory emails he wrote and pressured the Raiders to fire him in an attempt to ruin his career and reputation. In January, the state Supreme Court put the lawsuit on pause pending the completion of an appeal challenging a district court's denial of the league's motion to compel arbitration.
District Judge Nancy Allf has previously ruled that the arbitration process the league wants Gruden to go through would be unfair in part because the NFL's constitution would allow for Goodell to act as the arbitrator.
The league argued that Gruden only named Goodell in the suit to avoid the arbitration process, according to the opening brief filed Tuesday.
Attorneys for Goodell and the NFL also wrote that the commissioner could chose to appoint a different arbitrator, "such as another NFL official or an arbitration service provider." If a judge were to decide that Goodell should not act as an arbitrator, the judge should require him to refer the process to another party, rather than prevent the entire arbitration, the NFL argued.
"Federal courts of appeals have required the arbitration of NFL-related disputes before the Commissioner, and, in professional sports leagues, arbitration by the league commissioner is a commonplace and widely approved and accepted practice," the league's attorneys wrote.
Gruden's attorney declined to comment on the case on Friday.
Gruden resigned as the Raiders coach a month before suing the league, after The Wall Street Journal and The New York Times published racist, misogynistic and anti-LGBTQ emails he had written.
The NFL has claimed it did not leak the emails, and it has disputed Gruden's claim that all of the emails leading to his departure were sent before he signed an agreement with the Raiders.
During sworn testimony in December to the House Oversight Committee, former Washington Commanders president Bruce Allen claimed an NFL official told him the Commanders were behind the leak.
Gruden's attorneys have argued that he was not presented with a copy of the NFL Constitution when he signed the agreement with the Raiders, but the league has claimed that a copy of the document was "easily available to him."
Contact Katelyn Newberg at [email protected] or 702-383-0240. Follow @k_newberg on Twitter.